Back to Blogs
Publish Date:

Posted about 3 years ago

Author:

Emily Peacock
​​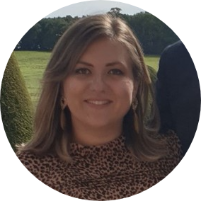 ​
At Access, you can develop a fantastic career! We've asked some of our team to share their development stories. Today, we hear from Emily Peacock, Onboarding Manager in our Centre of Excellence...
​
​
​
How Long have you been at Access?
I have been with Access for 4 years
What role did you start in?
I began my time at Access as an Onboarding Consultant.
What was your goal when you first joined?
I was keen to progress within a large corporate organisation; most likely into Management. I had not studied in a Software field and so the possibilities were endless in my view but I knew it was an organisation I wanted to stick with, no matter in
what capacity.
Tell us about your career journey...
After just over a year working as a Consultant, I was asked to step up to a Team Leader role for the team I was in. This was a perfect opportunity as it gave me a transition into Management and allowed me to grow as an individual. Since then, I have progressed into the Centre of Excellence as the Workspace Onboarding Manager and become the 'go to' person for all things Workspace!​
How has Access supported you with your development?
Access has a fantastic foundation for Learning & Development; it is one of the few organisations that have a dedicated team purely looking into the development of its employees. I have been involved in the Employee & Leadership Academies, both of which give you time outside of your day-to-day to really analyse where you're at, what you're good at and what could potentially be improved.
The Learning Management System built up of a series of accreditations is also very valuable; it allows employees to spend time learning new things or advancing their knowledge of something they already know which can then be put into practice. I have also been very lucky in that my Manager throughout my time at Access has not changed and so we have built a great relationship and can talk about anything in confidence; personal or business.
What advice would you give to someone looking to work in Professional Services?
If you want to work in a fast-paced, exciting & innovative environment, Access is the perfect choice! Professional Services has so many aspects to it and so the opportunities are endless; if you want it, put yourself out there, show willing and you'll probably make it! You can really make something of your career in an organisation that cares as much about it's staff as it does the pennies!
​