Back to Blogs
Publish Date:

Posted about 2 years ago

Author:

Humaira Ghani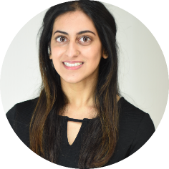 Today we hear from Humaira Ghani, Inside Sales Executive at The Access Group to find out what a typical day looks like...
​My personal early-bird incentive is the best parking spot in Lockington! I arrive at the office (an hour early) and make my way to my desk where I would usually see a few of my early-bird colleagues in already. Then I make my way to the kitchen and make a quick cuppa – PG Tips, NOT Yorkshire.
I start my first hour of the day going through emails, setting my daily KPI targets and making sure all my ducks are in a row for meetings, demonstrations and pre-booked calls. Then I crack on with some prospecting.
I tend to find the most success in the mid-morning after my clients have had their early meetings. As I get into the flow, I usually find myself calling and generating pipeline up until lunch time.
My afternoons typically consist of dealing with open projects and liaising with different functions at Access. I have strong connections in the wider divisional teams who are always happy to help me with my deals and opportunities.
On this particular day, I needed some extra support from the Head of Product to jump on a call with a potential customer and myself. The call itself was a huge success and they signed shortly after! Teamwork most DEFINITELY makes the dream work.
The main thing I love about Access is the fact that we all chip in to contribute to each other's success, no matter what role or division we sit in. We genuinely are a family-oriented company and take pride in the wider success of the business. Having worked in numerous industries and roles prior to Access, I can 'hand-on-heart' say that this company ethic is truly rare and makes working for Access that little extra special.
Final stretch! The last hour-or-so of my day involves concluding the afternoon, updating project notes and compiling fresh data for prospecting the next day. When 17:00 hits, I close my laptop, say a dramatic farewell to my colleagues and head out the door. Sometimes we all catch up at the local pub after work if the weather is nice!
Signing off, H.